Dan Schoenholz's New York Times crossword
So, this is a two-day-early 50th anniversary theme, slotted for a Tuesday despite a small barrage of non-Tuesday fill. AGHAS, ERST, ARTY clued as [Pretentious] (really don't encounter that usage in my non-crossword world, and artsy is far more common), NEY, AREEL, HUED clued as a stand-alone word (the dictionary I checked says it needs to be part of a combo, like rainbow-hued)? EBB and NEAP, stilted HAD OUT, no-no OSH (if we can't clue POD as [i___], why is [___Kosh B'Gosh] kosher?) … this grid did not enchant me, aside from being pleased to find Marc CHAGALL in the puzzle.
Anyway, here's the theme: NORWEGIAN WOOD was released by the Beatles 50 years ago Thursday. The song title and opening line together split into a symmetrical set, along the lines of a quote theme. I ONCE HAD A GIRL / OR SHOULD I SAY / SHE ONCE HAD ME. I … don't really know those lyrics. (And don't give a hard-of-hearing person any crap about not knowing lyrics.)
3 stars from me. The puzzle surely delighted some solvers, but it left me cold. (Would have gone over better as a Wednesday puzzle, given the fill, but the theme is too basic for a Wednesday.) Good night, all!
Matt Jones's Jonesin' Crossword, "V: The Invasion" – Derek's write-up
He says it "sounds weird, but it works." I say it doesn't sound THAT weird! The theme entries this week are all familiar phrases that have a "V" added in. See for yourself:
17A [Chinese leader born in Norway?] SUN YAT-SVEN (Sun Yat-sen)
32A [Complaining when you have to stand during that stadium thing?] KVETCHING A WAVE (Catching a wave)
39A [Part of my Ukraine itinerary, maybe?] FRIDAY I'M IN LVOV (Friday, I'm in Love) – Easily my favorite!
58A [Economist Bodie at an animal attraction?] ZVI AS IN ZOO (Z as in ZOO) – I have never heard of Zvi Bodie, but the joke works!
This is a nice, punny puzzle! I did this one today just before I went to work, and I was in a nice mood for most of the day! I'll rate it 3.9 stars. Here are some notes:
1A [Tyler of "Archer"] AISHA – I am a big fan of Archer! Aisha Tyler voices Lana in this show. It's quirky, and stretches the envelope of decency at times, but it's on Netflix for your binge consumption!
49A [Beats by ___ (headphones brand) DRE – This company is now owned by Apple, I believe. As a parent, I cannot say enough about the benefits of good, high quality, NOISE CANCELLING headphones!
53A [1950 Isaac Asimov book] I, ROBOT – I liked the Will Smith movie a lot. Never read the book. I'll see if it is on Amazon for my Kindle…
65A ["Let It Go" singer] ELSA – DISNEY!
26A [Irwin who won this season of "Dancing With the Stars"] BINDI – This is Steve Irwin's daughter, the Crocodile Hunter who passed away some years ago. I didn't know she won. Good for her!
32A ["Felicity" star Russell] KERI

– Another crossword immortal! 

I don't think there are many "KERI" spellings of this name, are there?
41A [Game played with five dice] YAHTZEE – Or Dice with Friends, if you want to totally waste time on your smartphone!
It is December; work has been rough. I'm going to sleep!
Jeffrey Wechsler's LA Times crossword – Derek's write-up
Yes, only 3 1/2 minutes! And that could have been less if I hadn't made a typo in 53A [Nincompoops] MORONS – I had MOIONS! I say this not to brag, or to say the puzzle is too easy, but only that I am thinking of Stamford, which is only 4 months away! Looking forward to meeting/remeeting a lot of people I have come in contact with since joining this blog. More Stamford comments as we get closer…
…but as for the puzzle, my name is in it! OK, not really MY name, but the puzzle is a tribute to a certain movie director who shares my last name:
1A [With 69-Across, filmmaker born 12/1/1935 who directed and wrote five films in this puzzle] WOODY ALLEN
18A [With 59-Across, 1980 film by 1-/69-Across] STARDUST MEMORIES
27A [2011 film by 1-/69-Across] MIDNIGHT IN PARIS
33A [1971 film by 1-/69-Across] BANANAS
36A [1973 film by 1-/69-Across] SLEEPER
45A [1995 film by 1-/69-Across] MIGHTY APHRODITE
Yes, a lot of theme entries, but the takeaway for me? WOODY ALLEN IS EIGHTY! I suppose that shouldn't be too much of a shock, since he has been making movies for well over 40 years. (First directorial credit, according to imdb.com, was What's Up, Tiger Lily? from 1966, so almost FIFTY years!) I have only seen Mighty Aphrodite from this group of his movies, although I have seen Blue Jasmine recently. Actually, those may be the only two Woody Allen movies I have ever seen! Normally I call famous Allens a cousin, but his real name is Allan Konigsberg, so he is not related!
Fun puzzle. 4.1 stars. A few comments:
1D [Genie's offer] WISH – Doesn't a genie typically offer THREE wishes?
7D [Major thoroughfares] ARTERIES – I never think of this word in terms of roads!
14D [Hip-hop headgear] DO-RAG – I always thought this had two Os. I don't have much hair, so, you know, I don't need one……..!
38D ["CSI" actor George] EADS – Another crossword immortal! Besides: is there anyone else famous named "EADS?"
45D [Cow sound in "Old McDonald"] MOO MOO – Well done. How else would you clue this?!
47D [Supermodel's allure: Var.] GLAMOR – My Merriam Webster 11th lists both GLAMOUR and GLAMOR as OK, although GLAMOUR is listed first. I didn't think it need the tag.
49D [Annoying types] TWERPS  – Same dictionary defines this as "a silly, insignificant, or contemptible person." I am a firm believer that people only annoy you if you allow them to!
Until next Tuesday's LAT!
Jacob Stulberg's Wall Street Journal crossword, "The Harder They Fall" — Jim's write-up
Our theme today is nostalgic. No doubt our constructor, Jacob Stulberg, enjoyed his fair share of Road Runner shorts in his time (as I did and still do when my daughter finds them on Boomerang).
38A gives it away: [Where you shouldn't stand under the starts of 17-, 25-, 49- and 60-Across]. The answer is ANIMATED CARTOON.
17A ["Il Trovatore" piece] ANVIL CHORUS. Nice bit of high-browedness for a puzzle about toons. Of course, toons and opera go well together.
25A [Hangout with live entertainment] PIANO LOUNGE. "Piano bar" gets 8M google hits vs. just 363k for PIANO LOUNGE. Just sayin'.
49A ["Bon voyage!"] SAFE TRAVELS. The more accurate translation is "Have a good trip!"
60A [Number posted near some bridges] WEIGHT LIMIT.
So the puzzle is a cautionary tale (cautionary puzzle?) to avoid standing under certain items if you find yourself in an ANIMATED CARTOON.
I found the revealing clue a bit awkward. It took a couple of readings to get the gist of it. But what I was bothered by most was the phrase "ANIMATED CARTOON". I thought they were just called CARTOONs and don't think I have ever heard anyone use the phrase ANIMATED CARTOON. Have you?
But I suppose it must be distinguished from a print CARTOON or a comic strip. And the phrase checks out; it has its own Wikipedia page. Still, I don't have to like it, and as I was solving, I groaned when I got that answer. It seemed to suck the life out of a fun idea. I think I would have enjoyed it better if WILE E. COYOTE had been the revealer with a clue akin to [Frequent victim of the falling objects found in…], or something like that.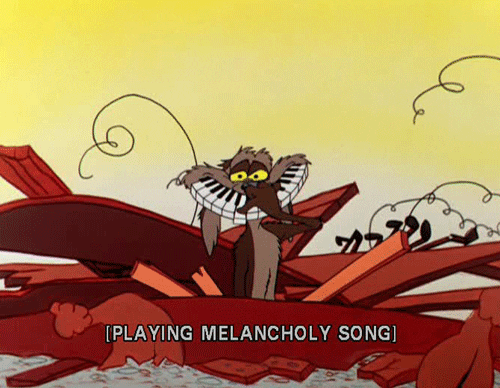 There is also some inconsistency with the theme answers. ANVIL and PIANO refer directly to those objects, as those objects are involved in the ANVIL CHORUS and a PIANO LOUNGE respectively. SAFE and WEIGHT don't. There is no physical SAFE involved in the phrase SAFE TRAVELS nor is there a tangible WEIGHT (of the 10-ton variety) involved in WEIGHT LIMIT. I may just be nitpicking, but the wordplay is simply not the same as the first two entries. SAFECRACKER would've made a more consistent choice, as well as either WEIGHT ROOMS, WEIGHT TRAIN, or WEIGHT LIFTS.
Away from the theme, this is a nice grid. REVELED IN and ADMIRED are two of the longer Downs, but there's even nicer stuff like MODERN MAN, PUP TENT, and QUARTET. I like the NE corner with CAJUN (food), current Bond Daniel CRAIG, and SKYPE (SKYPE-fall?) all crossing QUIP. I also love GREASER at 28A, though maybe I shouldn't. Is that mostly a derogatory term? Other good shorter stuff includes SONNY and SORBO.
Crossword crutch YMA Sumac makes an appearance at 30A, but that's about as bad as it gets.
Fun idea and a well-made grid, but for me, the theme execution seemed just a tad off. 3.5 stars.
Elizabeth C. Gorski's
C

r

♥

s

s

w

♥

r

d

Nation puzzle (Week 235), "Four Play"—Janie's review

Holy moly—here we go. It's the first puzzle of the last month of the year—already! And it comes to us with a decided "whimsy" factor. Each of the four themers is either a two- or three-word phrase ending with a four-time repeating digram (two-letter syllable). No "real" phrases here—and "I'M COOL" with that. They're all blithely on the silly side—if also on the "highly unlikely" side. [See title and note the word "play"…]

The real fun (and by fun I mean silliness) in all these themers? Saying them out loud. Quickly. That'll get yer diction in gear!

The grid also presents us with a good bit of mid-range, 6- to 8-letter fill. It's a tad middlin', but there are several tasty morsels, like AWAY GAME, ON CALL, "FOR YOU," DISCOS, PRE-WASH, DAMAGES and the lovely LULLABY right there at the center, crossing the two "inside" themers.

New names! Or new to me at any rate. ["Reading the OED" author Shea] AMMON. But is that Shea AMMON or AMMON Shea? Hah! AMMON Shea it is. And while I'd never heard the title before solving, it definitely sounds like a wordie's wonderland kind of read. And Mr. AMMON's arduous journey, one better experienced vicariously…

Also, [ESPN's Bob] LEY. Wow. It seems Mr. LEY is "…the longest tenured on-air employee of the network, having joined ESPN just three days after the network's 1979 launch." That's a darned good gig, and as a multiple Emmy winner, I think it's safe to say that the guy apparently has the chops! (In all that time, am also thinkin' he must've covered—or reported on—a BEANER [Pitch to the head] once or twice. I'm pretty sure I saw Brooks Robinson take one in the early '60s. There is support for this use of the word in "Etymology 2," so please don't anyone CARP [Grumble], though these days, I think the preferred term is beanball.)

And that's gonna do it for today, folks. Hope you'll have a good week, and (as always) keep solvin'!
Patti Varol's CrosSynergy/Washington Post crossword, "Just a Few Pointers"—Ade's write-up
Good morning, everyone! Before talking crosswords, just want to wish my mom a very happy birthday! Sixty-seven years young! Will have to stop by her place to wish her a great day. (Yes, a phone call would suffice, but definitely nothing like an in-person hug, right?)
Today's crossword, put together by another special lady, Ms. Patti Varol, uses the same clue for each of the four theme entries, and all four, in their own special way, are types of pointers.
COMPASS ROSE (17A: [Pointer])
WEATHER VANE (28A: [Pointer])
INDEX FINGER (44A: [Pointer])
IRISH SETTER (60A: [Pointer])
One of these days, I have to attend an event at the TRIBECA Film Festival, as I know a couple of directors and people in film who take part in it and would be able to invite me to some of the viewings and possible afterparties (43D: [Manhattan nabe with a film festival]). In a somewhat related note, I probably haven't heard/seen the word "nabe" in a pretty long time before reading the clue for TriBeCa. Liked the two synonyms that are used as fill, OPAQUE (21A: [Not clear]) and SHADOWY, a word I love when I hear "shadowy figure" being used to describe certain people (5D: [Hard to make out]). Did you know that Peter NOONE and those Hermits are touring around the United States as we speak (31D: [Herman's Hermits frontman Peter])? Well, here's their schedule of concerts coming up, and maybe you can catch them live in your area either before or after the New Year. 
"Sports will make you smarter" moment of the day: RYANS (66A: ["_____ Hope" (old ABC soap)]) – Current NFL player DeMeco RYANS is a linebacker who currently plays for the Philadelphia Eagles. Drafted in the second round of the 2006 NFL Draft by the Houston Texans after a being an All-America at the University of Alabama, Ryans proceeded to win the Defensive Rookie of the Year Award in 2006 and made the Pro Bowl in both 2007 and 2008, all while with the Texans.
See you all at the top of the hump on Wednesday!
Take care!
Ade/AOK
Matt Gaffney's Buzzfeed crossword, "I Won't Stand For That"—Ben's review
I like the idea of the theme for today's Buzzfeed crossword, but I think the execution leaves a lot to be desired.  It took me a while to figure out, but the answers this week are all alternate expansions of common internet acronyms:
UPDATE: the earlier version of the .puz file I solved with was missing some very important context to the clues.  This has since been corrected on the BuzzFeed site.  Here's the correct set of clues for the themed portion of the puzzle:
17A: "LOL — that's so funny you want to pay me for this job.  because for me it's a ___!" — LABOR OF LOVE

23A: "WTF — is he drinking that much because he ___?" — WANTS TO FORGET
36A: "TMI — that's all I need to know about that nuclear disaster on ___?"   —  THREE MILE ISLAND
45A: "BRB — gotta go get my favorite soft drink ___!" — BARQ'S ROOT BEER
56A: "OMG — I'm definitely going to beat you this time, ___!  — ONE MORE GAME
Again, I love the idea here, but the execution's a little disappointing.  I kept trying to find some sort of theme in the expansions, although the lack of the full clues in the .puz file (see my note above) was an additional stumbling block that didn't help.  45A was the first to fall, which made me think these were all brand names.  That was quickly proved wrong.  Then I got 36A, which made me think these were all well-known expansions.  That also fell apart.  Any sort of pattern or overall connector for these answers would have helped this feel a little more cohesive as a theme.  With the full clues, there's some better context, but I still would have liked if there was a little more connection between these.  Plus, from a copyediting perspective, these clues all feel a little oddly worded and there's some punctuation nitpicking I'd probably make if I was checking these before they went live on the site.
Even if the theme clues left something to be desired, I found plenty to like in the rest of the clues:
15A: Graphic novelist Bechdel who wrote "Fun Home" and came up with the Bechdel test and Elvis Costello wrote a song about her! — ALISON (this needed a final edit, but I like the excitement)
44A: Highway to the heart, so to speak: AORTA (I kept trying to make this some variant of STOMACH to no avail)
54A: Berry in a ton of different costumes in "Cloud Atlas" — HALLE (I saw Cloud Atlas in theaters and really liked it.  Others…were not so kind)
33D: Fruit in a sauce you probably are sick of after Thanksgiving — CRANBERRY (not so, says the solver who just made a fresh batch of cranberry-orange relish after getting home from the airport this weekend)
46D: Session where audience members get to hold the mic FOR ONCE!!! — Q AND A (At some point I will remember that I do not like Q&As and will stop going to book signings or movie screenings where a Q&A is involved.  So far I have been bad at remembering that)
Clue that sent me down a YouTube wormhole: 42A's clue for DONNA ("Retta's 'Parks and Rec' character") gave me a nice flashback to this year's ACPT (where I breezed through the clue about RETTA that stumped many other solvers) AND reminded me how much I love Parks & Rec.  And its many delightful blooper reels:
Overall, mediocre execution of the theme portion of the puzzle brought this one down.
3/5 stars.