Bruce Haight's New York Times crossword — pannonica's write-up
I imagine this theme has been done before, somewhere, but it works. Seven relevant one-word entries (four are just six letters long, though) answering to [Unnamed object].
Other candidates include: doohickey, whatsis, whatsit, thingummy, gizmo/gismo, contrivance, gimcrack, gewgaw.
This was a fast solve, about three minutes, even with my quasifunctional keyboard (and my substandard typing skills). The only significant hangup was answering 45d [By the deadline] with ON TIME without checking crossings, when it should have been IN TIME.
What else? Seemed like a lot of blah short stuff. USC, PLO, NES, SEP [Aug. follower], DEC [Christmas mo.], OYS, ETC sorry, etc. And those are just some of the threes.
Strange syntax for the clue of 8d ENID: [Woman's name that means "eat" backward]. My version of that tack would have been along the lines of [Woman's name that, when reversed, means "eat"]. But perhaps that's neither here nor there.
Favorite clue, because it has at least a modicum of panache: 26a [Shell's shell and Chevron's chevron] LOGOS.
So, essentially an average Monday.
Kimberley Lay's Wall Street Journal crossword, "Wrap It Up!" — Jim's review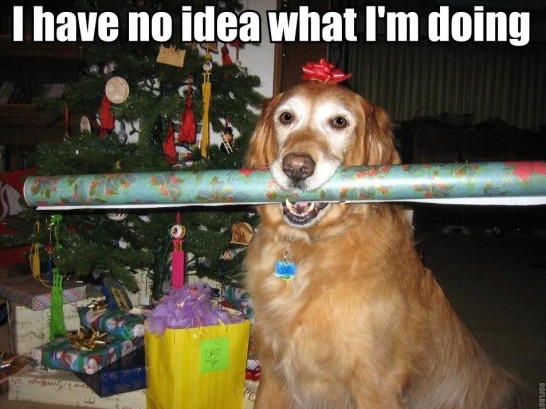 You've bought all your presents and you're ready to do the wrapping, right? Well, good timing, because Kimberley Lay has given us everything we need to wrap up those bundles of joy.
But first, let's play, Guess the Constructor! This is either a debut puzzle for Miss Lay with the unusual E in her first name or else it's a new pseudonym of editor Mike Shenk. If it's an anagram, it could stand for My Likely Bear or possibly Really By Mike.  I'm going to go with the latter.
Ok, so back to business. Each theme answer ends with an item we need to wrap our presents. There isn't any wordplay involved in the grid, however the clues are presented wacky-style as if the theme entry was going to be used in the wrapping process.
17A [Wrapping for a college student?] TERM PAPER
21A [Wrapping for a state fair competitor?] BLUE RIBBON
38A [Wrapping for a Twitter user?] HASHTAG
53A [Wrapping for an old-time investor?] TICKER TAPE
62A [Wrapping for an orchestra musician?] VIOLIN BOW
Not a lot to talk about theme-wise, so let's move on. The solve went pretty quickly (other than the phone call I received in the middle). I ignored the theme answers until I did most of the Downs. They all looked like standard phrases, so they filled themselves in pretty easily.
It was fun uncovering all the Christmasy goodness in entries and clues alike:
[Cratchit who works for Scrooge] BOB
["Sleep in heavenly ___"] PEACE
[Time for last-minute Christmas shopping] EVE
["Let earth receive ___ King!"] HER
["Tiny tots with their eyes all aglow ___ find it hard to sleep tonight"] WILL
[Vehicles that may have jingly bells] SLEIGHS
[Manger fill] OATS
[Stocking stuffer, often] TOY
["A Visit from St. Nicholas" poet] Clement Clark MOORE
[Christmas song] CAROL
[Busy bunch leading up to Christmas] ELVES
[Creator of Cratchit and Scrooge] DICKENS
[The tiny Cratchit boy and others] TIMS
I especially liked the inclusion of authors DICKENS and MOORE. All that without compromising any of the other fill.
Most difficult section: the North with COEUR next to ETRE and ON POT immediately preceding ON TAP. But the puzzle redeems itself with HOMIER and UNIBROW. Ah, all better!
Not much else to say. A fun little morsel.
Oh hey! Bert (he of the UNIBROW) is mentioned in the puzzle as well as COO (50A [Dove's call]). What better time to include this:
Joel Mackerry's Los Angeles Times crossword — pannonica's write-up
It's off-putting when the first clue typically confronted—1-across—is an eyeful and a mouthful such as the cross-referencing [With 71-Across, seasonal visitor who'd appreciate being warned about the ends of 20-, 37- and 56-Across]. I mean, right there, right at the start of it, is "With 71-Across …". Even a non-speed solver doesn't want to dive into an empty pool and crack their noggin on concrete, which is the sensation here.
Certainly, given the timing of this crossword, it's easy enough to infer the answer, even without visiting the long theme answers, but that isn't the point. (It's SANTA | CLAUS, by the way.) But despite the pragmatism and desirability of placing revealers at either the top left or bottom right of the grid—or in the case, both—having a heavy-handed cross reference there derails the proceedings before they've begun. Screeching halt, brick wall, bucket of cold water, take your pick from a sea of metaphors. Lump of coal?
Oh, the theme proper. Right.
20a. [Boasting, metaphorically] BLOWING SMOKE.
37a. [Former lovers] OLD FLAMES. That one could use a "metaphorically" qualifier too.
56a. [Accidental attack on allied forces] FRIENDLY FIRE. This one too, arguably. Other options: "euphemistically", "oxymoronically".
So, uhm, that's it. SANTA would like to know if your chimney, his B&E route of choice, has SMOKE, FLAMES, or FIRE in it. This all feels very forced.
The rest of the puzzle is Monday-solid, despite a number of less-than-savory abbrevs. and fill-in-the-blanks (e.g., NHA, BAS, CTS, RECT, CARBO-, -RES). Meaty seven-stacks in the northeast and southwest, decent eights across, interspersed with the themers. ICE OVER, JACKIE O, IN TEARS, CAB FARE, AWARDED, RESIDUE, LONE WOLF, HANG ONTO.
Decent puzzle but disappointing, nearly superfluous theme.
Mary Lou Guizzo and Carolyn Farmer's BuzzFeed crossword, "Use the Forks Luke"—Andy's review
As far as I can tell, this is Carolyn Farmer's debut puzzle. Congrats! (Not to leave Mary Lou Guizzo out of the congrats, but she's already a pro.)
This puzzle's theme is Star Wars/food puns of varying sorts:  
1a/67a, FLAN/SOLO [With 67-Across, dessert on the menu at 17-Across that made the Custard Run in less than 12 pastries?]. Interesting use of theme answer cross-reference; I think I like it. Flan + Han Solo; this is a reference to the Millennium Falcon.
17a, ADMIRAL SNACK BAR [Eatery where Luke might hear someone shout "It's a frappe!"]. A pun on Admiral Ackbar's (in)famous line, "It's a trap!". My favorite of the five.

28a, DARTH VADERADE [Beverage on the menu at 17-Across (as you'll remember, that's the ADMIRAL SNACK BAR) that's turned to the dark red, dark blue, or dark orange side?]. This is just a portmanteau of Darth Vader and Gatorade.
44a, OBI WAN CANNOLI [Dessert on the menu at 17-Across that is not filled with the creamy ricotta you're looking for]. A reference to Jedi mind tricks.
57a, JANGO FETTUCINE [Main course on the menu at 17-Across that was hired to assassinate Senator Padme Alfredo]. Jango Fett + fettucine. Spoilers behind this link (Jango's the one in the armor).
Some bonus Star Wars content at 16a, NERF "Why, you stuck-up, half-witted, scruffy-looking ___-herder" (burn from Princess Leia)]. The burn in question.
The copy editors let at least one typo through today, in the clue for 4a, NO I.D. [Producer known as "the Godfather of Chicago hip-hop"…or why he wasn't allow [sic] in the club?]. Interesting to see this entry not clued as the Domino's mascot of long ago, I appreciated it. I'm also not sure what the 7d clue for OH SO was going for. It reads [Too, too]. [Too-too] would have made sense. I guess you could read it as [A way to say "too," as well], but I don't love that. *shrug*
Way too much other stuff to talk about in this one. The AJAX clue was particularly clever, I thought ["Stronger than grease" cleanser or "I'm strong and for Greece!" warrior]. The AFRO clue [Huge hairdo for Foxxy Cleopatra] surprised me in that people are still referencing Foxxy Cleopatra (from 2002's Austin Powers in Goldmember), though it was one of Beyonce's early film roles which I guess is notable. Beyonce gets another shout-out in this puzzle at 39d, "I WAS HERE" ["Um, I believe this is my seat from which to hear Beyonce's 2012 U.N. World Humanitarian Day song…"]. I really enjoyed the clue/entry combo, but it's just shy of "weird entry with a clue trying too hard to save it."

Overall, a fun, easy theme. Fill was probably a bit too hard for this early in the week (forced a bit by the abundance of theme material), but there was still a lot of good stuff in there.
Happy Monday. Go listen to MANNHEIM Steamroller. See you after Boxing Day!
Brendan Quigley's blog crossword, "Themeless Monday"
I haven't solved a BEQ themeless this quickly in quite a while, I don't think.
Lots of fill to like here. Stand-outs for me: The ENNOBLE/GRENOBLE pair. STEAM IRON, because my husband just bought one. LES PAUL. "OH, GREAT." CAST AWAY (the movie title is two words, the verb phrase, but I always want it to be one, the noun). SEX PISTOLS. BEER O'CLOCK. DO THE MATH.
Mild dupe with YEAR and "year" in the SYNE clue. Could go the very easy FITB route for SYNE, or use "December 31" rather than "year-end."
Three more things:
43a. [Baker's ingredient?], THC. In cannabis, as one who's high is "baked."
39d. [Broadcasting unit?], AIRWAVE. Meh. It's not really a legit word outside of the plural, is it?
35a. [Cook's bailiwick], APPLE. Tim Cook, not someone cooking food. Yes, I fell for the ruse.
Four stars from me.
Randall J. Hartman's CrosSynergy/Washington Post crossword, "Lunatic Fringe"—Ade's write-up
Hope you're having a good start to the week, everyone! Today's crossword, brought to us by Mr. Randall J. Hartman, has four theme answers in which the the letters at the very beginning and at the very end could combine to make a word that can describe someone's that's a little "off."
NUMBERED ACCOUNT (17A: [Swiss bank offering]) – "nut"
KINDLE E-BOOK (25A: [Paperwhite purchase]) – "kook"
FLANNEL CAKE (43A: [Flapjack]) – "flake"
LOYAL OPPOSITION (55A: [Obstacle to the party in power]) – "loon"
Theme's been done a few number of times, and wasn't onto getting what was happening until near the end, when I thought about the title and focused on the letters on each end. Some of the fun fill came from the downs, especially with PIE HOLE (5D: [Yapper]) and HOLY MOLY, a term I had used way too much for a while as one of my euphemisms (36D: ["Jumping Jehoshaphat!"]). No real difficulty at any section, and maybe that was because of the near lack of references to people/celebrities in the grid. Well, there is BIDEN at the very center, though (28D: [Veep under Obama]).
"Sports will make you smarter" moment of the day: TOOTOO (22A: [Over the top]) – Current New Jersey Devils forward Jordin TOOTOO was the first Inuk player to ever play in the National Hockey League, when he made his debut for the Nashville Predators in 2003. Though born in Manitoba, Tootoo was raised in the Northwest Territories area that's now called Nunavut.
Thank you all for your time, and I'll see you tomorrow!
Take care!
Ade/AOK