untimed (Evad)
Marie Kelly's (Really Mike) Wall Street Journal contest crossword, "Recycling"—Dave Sullivan's write-up
Our weekly WSJ contest puzzle today honors Earth Day, asking for
a five-letter word
. Let's look at the theme entries and see how they might lead us to this word:
17a. [Ring up on the holidays?], PINE WREATH – not sure I've ever heard a wreath referred to by the type of boughs that it is made of, I would say pine seems the most common type around New England
21a. [Album from which the 1968 Top 10 hit "Think" came], ARETHA NOW – I guess another famous singer, EARTHA KITT would give too much away here
39a. [Judge at a Wonderland trial], THE KING OF HEARTS – this and the next entry made me think we might be looking at an Alice Through the Looking Glass tie-in for the meta
53a. [Witness at a Wonderland trial], MAD HATTER – I wonder why the judge gets a definite article, but not this character?
61a. [Diesel engine part], HEATER PLUG – so diesel fuel needs to be heated as opposed to regular gas?
To these, we also have a hint at 49d. [Today's honoree (and the focus of the recycling in each theme answer)], EARTH.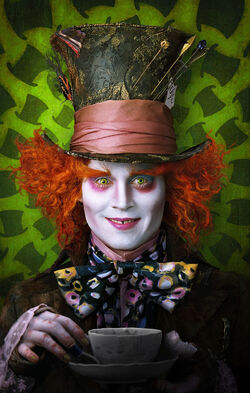 So, regular meta solvers to this blog should make an initial assumption that if we're looking for a five-letter word and have five theme entries, each entry should "donate" a letter to the final answer. Here, each entry has a six-letter word with five of those letters taken from EARTH (in various rearrangements, or "recycling"), leaving one letter remaining. Those "left over" letters spell WASTE from top-to-bottom, and I guess can be seen as the byproduct of our recycling efforts.
Truth be told, I would say this is one of my least favorite metas in the WSJ canon to date–the meta mechanism seemed almost too straightforward that I questioned if I missing a deeper level. (It might've given a bit more resistance without the hint at 49d.) I also didn't like the fact that two of the theme entries had a Wonderland vibe, all five or just one would seem more appropriate to this solver. Finally, I had wished that the EARTH letters, when rearranged, would remain contiguous, which is the case for the first three of the five entries. Again, a bit of inconsistency there.

Other bits and pieces:
I enjoyed the French "Que la lumiere soit!" or "Let there be light!" spoken in The Bible by God, or the French DIEU
I also enjoyed the connection of the double entries for [Photog's take], PIC and SHOT
Nice tie-in with the title with the clue for 38d. [Recycled, perhaps], USED
Not sure I follow the connection between the clue [Make do?] and STYLE. Are we talking about the verb to style hair?
Hope you did at least one simple thing to save our planet today!