Paula Gamache's New York Times crossword—Amy's write-up
The theme is LESS, but it's not really feeling like a Miesian "less is more." Words that end in LESS are redefined with specific contexts that don't usually apply to the words:
17a. [What the beat cop didn't want to be?], COLLARLESS. Collar as in arrest.
21a. [What the 1920s Yankees didn't want to be?], RUTHLESS. Babe Ruth.
35a. [What the museum curator didn't want to be?], ARTLESS.
50a. [What the G.I. didn't want to be?], BASELESS.
54a. [What the trial attorney didn't want to be?], MOTIONLESS.
3d. [What the mansion owner didn't want to be?], HELPLESS. Ick.
36d. [What the coal company didn't want to be?], SEAMLESS.
The fill was feeling a bit old here, which makes me wonder if the puzzle's been in the files for a while. A-LINE, ECLAT, EPS, SEGA, RIAL, HIC, PAREE, E-MAG … well, they're a little FUSTY (which is a great word, by the way). There's also a MY dupe with MY STARS and OH MY, along with GUESS AT and AT LUNCH.
Top fill: POOL CUE, IN HELL, I always like PASCAL, and I am STILL UP.
3.25 stars from me.
Elizabeth C. Gorski's
C

r

♥

s

s

w

♥

r

d

Nation puzzle (Week 270), "The Espys"—Janie's take

Not to be confused with the ESPYS, "The Espys" gives us a very basic theme: four two-word phrases, each alliterative word of which begins with the letters "S-P." The ones we meet today make for a perfectly respectable, if not particularly exciting, theme set. Ah, "Summertime—and the solvin' is easy…"
17A. SPRINGER SPANIEL [Floppy-eared pooch]. "Friendly, playful, obedient." Not a bad combo in a four-legged (or even some human companions…).
26A. "SPLISH-SPLASH" [1958 Bobby Darin hit]. Do check out this 1959 YouTube rendition. Song proper begins close to the 2:00 mark, but… It comes from Dick Clark's "Saturday Night Beech-Nut Show"—as in Beech-Nut Gum. And just about every teen in the the audience is chompin' away. So attractive. Not. Darin is probably lip-syncing but still—he's just terrifically smooth. Nice time-capsule of a pre-MTV music video.
47A. SPEAK SPANISH [Chat with Chita]. See above ("…not particularly exciting…").
59A. SPECTATOR SPORTS [Football and baseball, e.g.]. This is a good one—and with the start of the Olympics later this week, timely, too. Tune in and then look to next year's ESPYS for awards to Rio's Best U.S Female- and Best U.S. Male Olympian.
"I LIKE IT!" That'd be one of my "likes" today. Also the similarly colloquial "IT FIGURES." FIREPLACE is also strong (if decidedly out of season for those of us in some parts of the Northern Hemisphere…). I also liked the spate of words with a prominent "P" sound: PEAS [Pod dwellers], POEMS, PRANK, ALPACAS, PESTER and PEARLS—with its wonderful-but-maybe-shoulda-been-question-marked clue [Stranded treasures]. IN A HOLE for [Saddled with debts] was iffy for me as I'm far more familiar with the phrase IN THE HOLE. So is Google Ngram, for almost a century. And I sure wasn't in love with seeing AS FIT, a non-welcoming partial (with [Comparatively healthy], a not-so-helpful clue), right there at 1-Across.
Now I'm by no means actively
IRATE
about this, so don't say, "There goes Jane on one of her
RANTS
," but I do feel compelled to address a duplication issue that rears its head a lot in this puzzle. Yes, sometimes we see a word in a clue that duplicates a word in the grid. It happens. Moreover, you'll be hard-pressed to find editors who consider this a capital offense. That said… This kind of duplication feels very conspicuous today. I'd even go so far as to say that it occurs to distraction. And that I don't like. Lookin' at you:
[Spring mo.] APR and SPRINGER SPANIEL (I know, I know, totally different etymologies…but I can't help thinking of the phrase "guilty by association").
[Like a luxury car] ROOMY, then [

REC

room (play place)], then FIREPLACE [Chestnut-roasting spot].
[Apt name for a herding dog] SHEP right next to HERD [Cattle group]. Otoh, I do like the way these two entries descend from the first two letters of SHEEP and was reminded that the word "shepherd" itself is derived from "SHEEP-HERDer." So I guess the take-away is either tie 'em all together or find a way to give each one its own life.
In a more benevolent light—and with a focus on clues—am also lookin' at the [Woolly critters] two-fer, first for those SHEEP and then for the ALPACAS, and really liked as well the lively, alliterative [Brew in a bag] for TEA. A thoughtful quote is always welcome, which is why it was refreshing to see Hermann HESSE clued as the [German author who said, "The truth is lived, not taught"]. (Tony-winning composer/lyricist Maury Yeston similarly posits that musical-theatre writing "can be learned but it can't be taught"—and I think there's some truth in that. Probably for many kinds of writing. Ya gotta do it, "live" it. Though it never hurts to have some good mentorship along the way.) Finally, took some delight in the rhymed [Feet for Keats] IAMBS pairing and smiled to think of the possibility for a [Feats for Keats] POEMS
match-up. But [Angelou's works] got the honor instead.
Btw, that TEK [Drug in Shatner novels] pair sent me to Wikipedia quickly enough. William Shatner is a novelist? How does he find the time? Yes, gentle readers, this is yet one more example of why ghost-writers exist. Or make that nine more examples.
And with that, "ADIOS," y'all. Have a great week, keep solving–and see ya next time!
Matt Jones's Jonesin' Crossword, "Restaurant Battle" – Derek's write-up
The theme was fairly obvious based on the title once I got one of the theme answers, but then when I realized the actual matched set, I was pleasantly surprised! Or maybe I am just a little slow … ! Here are the theme entries:
18A [Meaty entree that beats 38-Across in reviews?] ROCK OF LAMB
38A [Leafy entree that beats 59-Across in reviews?] SCISSORS SALAD
59A [Beefy stir-fry entree that beats 18-Across in reviews?] PAPER STEAK
Get it? Rock-scissors-paper is the "battle" that is going on. In re-examining the clues, Matt is telling us that these "entrees" beat each other, so I suppose I could have noticed the RSP angle earlier! I shouldn't try to solve so fast! Nice tight theme; 4.3 stars today.
Some entries of note:
5A [Stadiumgoer's wrap] SCARF – I don't wear one to a stadium or anywhere else, but football season is right around the corner!
24A [Baton Rouge coll.] LSU – As in Louisiana State University, a college football powerhouse. They should be very good this year.
42A [Winger of Winger] KIP – No idea who this is. So I am looking him up … OK, I have heard some of their music! It's just mostly from 30 years ago!
57A [Energy-producing row of turbines] WIND FARM – These will be sparse in this country for a while; how can big companies gouge you for utility costs when wind power costs nothing? If I am not mistaken, even if you decide to go with wind or solar power, the costs are prohibitive and some solar customers still have to be on the grid! They may get a refund constantly, but how long until the investment pays for itself? I may be wrong, but it seems as if the powers that be are interested in profits and not clean energy. My rant is over!
7D ["Here Come the ___" (They Might Be Giants kids' album)] ABCS – Not familiar with this either. May look into it for my little one!
13D [Info one might keep private on Facebook, for short] D.O.B. – Or Date of Birth. I hide mine!
39D [Adorable one, quaintly (and why does this always invoke sugary foods?)] CUTIE PIE – And why shouldn't it involve delicious, sugary foods? ;-)
57D ["What Not to ___"] WEAR – I think I have seen this show before! I do watch SOME reality TV!
59D [Omega's preceder] PSI – Familiar with the Greek alphabet, but not in order!
Another awesome puzzle by Matt. Have a great week!
Patti Varol's LA Times crossword – Derek's write-up
We have starred clues! What do they all have in common? The entry at 53 Across gives a hint as to what is going on. Here are the starred clues as well as the revealer:
20A [Many a smartphone download] FREE RINGTONE
29A [Beef cut] TOP ROUND STEAK
44A [Traction aid for off-road vehicles] ALL-WHEEL DRIVE
53A [Influential groups, and what each of the answers to starred clues contains] INNER CIRCLES
So we do have inner "circles" in that the middle term of each is certainly circular; we have a RING, the word ROUND, and a WHEEL. Very well done. It may have been slightly cleaner if RINGTONE wasn't one word, for then you could say the middle word was the circular item. But this isn't confusing, and we will not nitpick. Perhaps some of you may feel differently. We will rate it at 3.6 stars for a slightly challenging Tuesday puzzle.
A few items of interest:
16A [Carne ___; burrito filling] ASADA – Is this sold as an entree anywhere except for Taco Bell?
48A ["New Hampshire's Gate City"] NASHUA – I have never been to NH. One of these days I will make a New England tour. Perhaps next year when the NPL convention is in Boston … ?
5D [Graduate-to-be] SENIOR – I have two of these. I am getting old!
27D [1976 Olympics star Comaneci] NADIA – Just saw her during the Olympic Trials for the US team. She is still married to the gymnast Bart Conner, who also I believe was a TV commentator for quite a while. Yes, the Olympics start this week! You know you will be watching, if for no other reason to see if it is a train wreck like they are predicting!
34D [Clapton woman who's "got me on my knees"] LAYLA – A timeless song. I like his second, slower version better!
That's all for today. Enjoy your week!
Doug Peterson and Samuel A. Donaldson's Wall Street Journal crossword, "I'm With the Band" — Jim's review
The Sons of Crosswords have teamed up to give us a classic rock-inspired puzzle. Specifically, particular words in well-known phrases are converted to famous band names by the addition of the word THE.
20a. ["We'll open tonight's show with 'Magic Bus'"?] THE WHO'S ON FIRST. Who's on first?
33a. [Sing lead on "L.A. Woman"?] FRONT THE DOORS. Front doors.
40a. [Headline announcing recording of "Roxanne"?] THE POLICE TAPE. Police tape.
53a. [Serve as a roadie for "The House of the Rising Sun" group?] PACK THE ANIMALS. Pack animals.
I liked the first one, but the rest are rather staid. You're really hoping for wacky humor when you're making creative theme entries, but none of these tickled my funny bone—neither the base phrases nor the theme entries. THE POLICE TAPE seems especially wanting since it's lacking a verb where the others are all active.
I literally fell asleep solving this puzzle (but that's not really the puzzle's fault; I'm still pretty jet-lagged).
Favorite long Downs are HOMEOPATHY and LIFTOFF. We also get NAMED AFTER, ABDOMEN (fave clue: [Navel setting]), CONFINE, and TANNERY. This set seems to match the theme: workmanlike and solid, but nothing to get too excited about.
Less favorite: a lot of A-words. Weird-looking ASSORT; AMT near ATM; word ladder-ish set AS TO, ASTI, and ANTI; and similarly ACME with the overly quaint AH ME. Again, nothing to get too worked up over, but an unusual collection.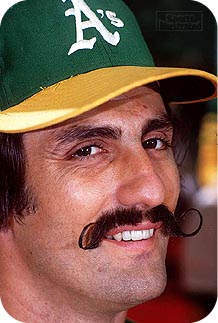 Clues of note:
48d. [Fingers with a Cy Young Award] is ROLLIE. I don't know the name ROLLIE Fingers, but what a name! And what a 'stache!
15a. ["Real Housewives" channel] is BRAVO. Wasn't there a time when BRAVO showed respectable, artistic fare—as in something you would stand up and shout "BRAVO" for? Ah yes, it all changed in the early 2000s when it was bought by NBC. "BRAVO," NBC.
That's it from me today. See you tomorrow!