Roland Huget's New York Times crossword—Amy's write-up
Before I review the theme, let me note that the fill disgruntled me. There were too many answers that don't have any place in a Tuesday puzzle, and the crossword took me more of a Wednesdayish amount of time so maybe it would have been received better as a Wednesday puzzle—but no matter. The terrible bits of fill would also draw my scorn in a Saturday puzzle. ARA, ATRI, ONE-A, SNEE (!), ESSEN, PSEC, and maybe ORU and ELIA. That PSEC and the more commonly gridded NSEC are bogus because the standard scientific abbreviations for these tiny units of time are ps and ns. ONE-A is dated and spells out a numeral; the draft classification is 1-A. There's no reason the typical American crossword solver would know ARA, ATRI, or ESSEN; you could argue for the relevance of ELIA and ORU. And SNEE! Most dictionaries have dropped this word. I quizzed my college-educated, well-read husband on [Old blade], 4 letters, and he just plain did not believe me when I said the answer was SNEE. I don't know why any constructors are still using this entry, or why editors are accepting it. And I wonder if I'm the only one who's unfamiliar with the word PIANET, 33d. [Electric keyboard heard on "I Am the Walrus"].
The theme revealer is the 15-letter CHEMICAL SYMBOLS, 36a. [This puzzle's circled letters, for the words that precede them]:
17a. [Flowering plants from Australia], COPPERCUPS. What?? I Googled this to find out what this plant is like, because as an American, I surely have never heard of it. Google's got a lot to tell me about copper mugs you can drink a Moscow Mule out of. I changed my search query to copper cup plant and got copper planters. Had to switch to coppercup plant to actually find anything on the plant.
26a. [What hath the gardener wrought?], IRON FENCE. Huh? That doesn't work. There are wrought iron fences, yes, but this clue is weird. Gardeners don't make wrought iron fences, and there's nothing particularly garden-specific about wrought iron fences. And we call 'em wrought iron fences, not IRON FENCEs.
51a. [Second-greatest period in something's history], SILVER AGE. Wasn't aware this is a term, but apparently it's used in TV and comic book circles.
58a. [Antiquated office duplicate], CARBON COPY. I guess it's churlish to object to a 1-letter chemical symbol joining the 2-letter ones.
Five more things:
15a. [Forty ___ and a mule (post-Civil War allotment)], ACRES. 40 Acres and a Mule Filmworks is Spike Lee's joint. Read Henry Louis Gates at The Root for the whole lousy story. Executive summary: 40,000 black people (out of 3.9 million freed slaves) settled on land reclaimed for them … and within a few months, Andrew Johnson overturned the whole shebang and gave the land back to whites. So much for the "allotment."
3d. [Soft food for babies], PAP. This is the third time PAP(S) has been in the NYT this month, I think. And nary a reference to a standard part of women's healthcare!
4d. [Family multitasker], SUPERMOM. I don't know that people use this word like that. My dad called me a supermom when I was a medical mess with a preemie in the NICU. It was really sweet of him.
38d. [Considerable salary to pull down], BIG BUCKS. "Big bucks, no whammies!"
46d. [Something a tank top lacks], SLEEVE. Just the one sleeve is missing, then? Gotcha.
Elizabeth C. Gorski's
C

r

♥

s

s

w

♥

r

d

Nation puzzle (Week 274), "Perpetual Motion"—Janie's take

We're in "perpetual motion" territory because the six two-word (or compound word) themers form a word chain: the second word of phrase 1 becomes the first word of phrase 2. And the second word of phrase 2 becomes the first word of phrase 3 … until we're back to the first word of phrase 1. Liz has done this kind of well-wrought wordplay before—and I'm all for it. I only wish that today's themers had a bit more sparkle to 'em. They're by no means sub-standard—just (mostly) a bit more functional than fun.
17A. SHOW-TRIAL [Rigged courtroom proceeding]. The phrase is a tad stilted to my ear, but it gets lotso play on Google Ngram, so thank you, Court TV, Judge Judy, O.J., et al.
23A. TRIAL RUN [Dress rehearsal]. Well, metaphorically or casually anyway. That is, you wouldn't hear of a "dress rehearsal" being called a "TRIAL RUN" in a professional theatre setting.

31A. RUN DEEP [Still waters do it]. This feels kinda like a partial to me. The fill isn't inaccurate, but there's something forced about it.

44A. DEEP-SEA [Type of diving or fishing]. Really like the images that this one summons up.
49A. SEAHORSE [Fish with a prehensile tail]. Love the word prehensile. And vestigial, which can also be tail-related.
62A. HORSE SHOW [Riding competition]. "And that brings us back to….."
If the theme fill didn't fully SATISFY, there's no DEARTH of items to like/cogitate on elsewhere in the grid. F'rinstance, I'd like to see that COWHAND PARASKI, wouldn't you? Might be a good way to round up big horn sheep in the winter… "HIS HONOR" [Title for a male mayor] is absolutely correct, and recalls the more colloquial HIZZONER—a moniker I associate with colorful male mayors, like Ed Koch or Fiorello La Guardia. Wouldn't work in today's puzz, but woulda been fun to see. Not keen for the plural YOGURTS, but NUTHATCH? I'll take it!
Quite a few names today. Quintessential short-story writer William Sidney Porter, a/k/a O. HENRY is referenced in connection with "The Green Door," a story whose title is not ringin' a bell for me. And are you familiar with [Reggae's INI Kamoze]? He seems a bit obscure to me. It seems a lot of his music gets sampled by other artists, but from what I can tell, he peaked some 20 years ago and has not genuinely enjoyed a mainstream career. 16th century Indian emperor [AKBAR the Great…]? Also new to me. And very sneaky, cluing KÁROLYI in connection with [Gymnastics coach Márta] and not her (sometimes controversial) co-coach and husband Béla. So that AKBAR / KÁROLYI crossing was a toughie for me (nor did it help that I had POKED where PRIED lives…). ["The Raven" maiden] LENORE, otoh…
So if this wasn't my favorite Gorski solve, "IT'S OK!" ["Not to worry!"]. There'll be a new one next week—and I like having that to look forward to. I'll keep solving and hope/trust you'll be doing the same. In the meantime: have a great week, all. And to bring things back to where we started, here're some "perpetual motion" gifs that demonstrate the relaxing/hypnotic quality this principle is capable of producing.
John Lampkin's Wall Street Journal crossword, "Out of Order" — Jim's review
Holy cow! This one has it all, a progressive theme with bonus humorous wordplay in the cluing, a beautiful (and aptly-placed) grid-spanner, fun non-theme fill, and a squeaky clean grid from top to bottom, er, BOTTOM to TOP.
1a. [Big bomb] FLOP. Not an obvious theme entry until you get to 68a and realize something is up.
16a. [*Roof for bugs and slugs, perhaps?] ROCK BOTTOM
24a. [*Like eggs on the ground instead of in the nest?] LAID LOW
38a. [*What two ends of a belt do?] MEET IN THE MIDDLE
47a. [*What David had to do against Goliath?] AIM HIGH
60a. [*Like a kid with a dreidel?] OVER THE TOP
68a. [Go nuts, and, with 1-Across, what the order of the starred answers has done] FLIP. But with 1a…FLIP FLOP.
So the main theme is that we have phrases that end with a positional word and that the entries are in opposite order, i.e. ROCK BOTTOM is at the top of the grid, LOW is high, MIDDLE is in the middle, HIGH is low, and TOP is at the bottom. Even FLOP comes before FLIP.
And that's all the theme really needs. It's self-contained and sufficient. We get colorful phrases and just enough of a twist to make it interesting. But John goes a step further and turns those entries into humorous wordplay by giving us some clever literal translations. I laughed at AIM HIGH (which, BTW, John used in his previous WSJ puzzle on June 13th) and OVER THE TOP and ROCK BOTTOM. MEET IN THE MIDDLE also elicited a chuckle.
But LAID LOW actually made me wistful. During the past four years when we were living in England, I would walk almost-daily with my octogenarian neighbor, Roy, and our dogs through field and forest around the farm where we lived. Every spring we were instructed to avoid a certain field where a stone-curlew would nest and lay eggs on the ground. So this simple clue made me think of Roy and our many walks in the woods, and I wonder how good ol' Roy is getting on without our daily walks now that we've moved back to the U.S. Sigh.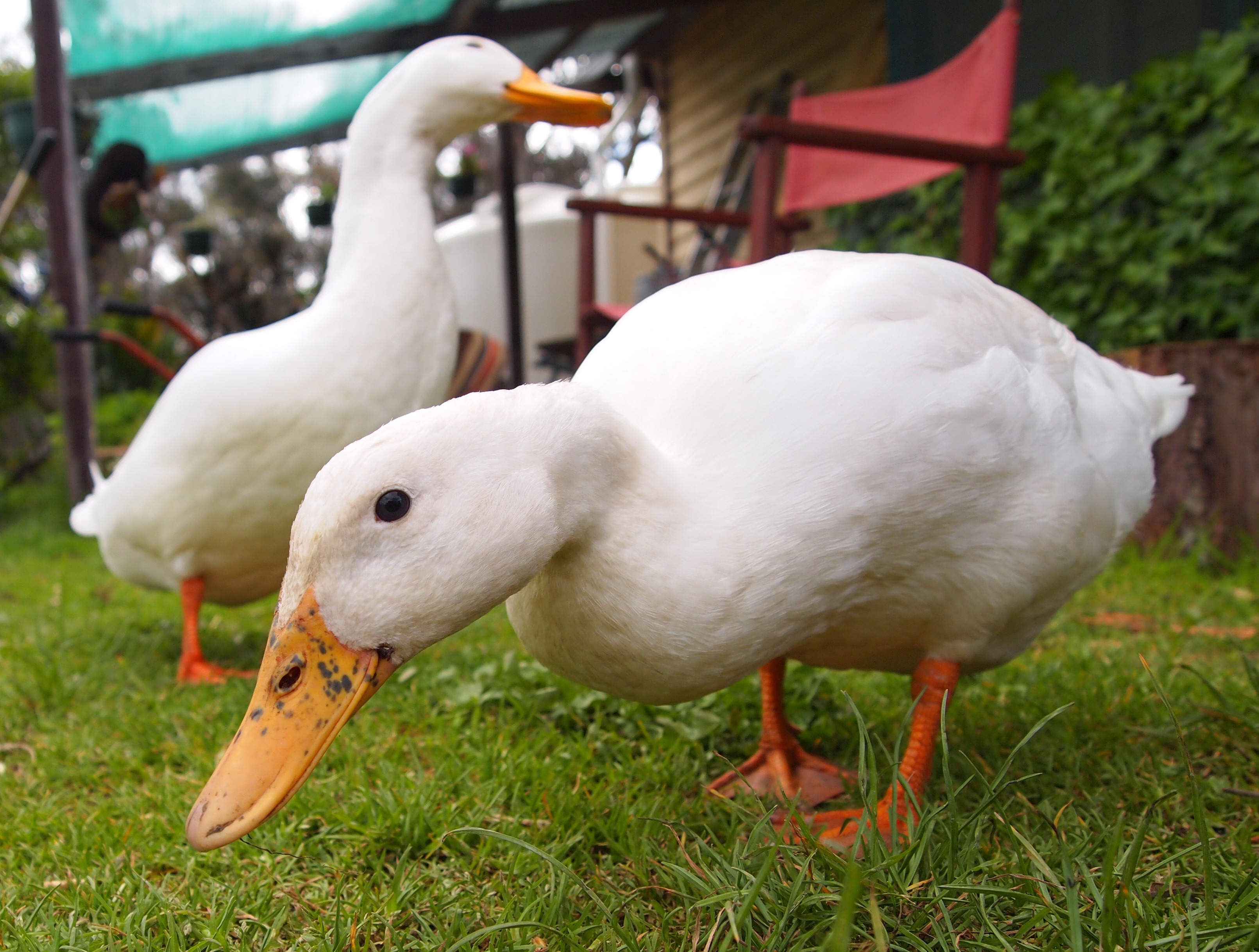 Anyhoo, so I loved the theme and clever cluing. But then look at all the fun fill, including PEKING [___ duck (crispy dish)]. This made me think of the Pekin ducks my dad kept in the little backyard of our suburban California house when I was a kid — that is, until he ate them. Also, NOT LEAST which gets a super tricky but clever clue [Last qualifier]. Plus, SHINING, PILE IN, TARHEEL, ELECTRON, ANIMATE (crossing ICE AGE), NIACIN, and FLEDGED.
Have you noticed the bird mini-theme? John actually forwarded to us at the Fiend pictures of some ospreys that have been nesting near his home in Florida. He has been documenting their growth including when the young ones FLEDGED.
Of course, having lived near RAF Mildenhall in the UK for the past few years, the only ospreys I've seen are these ones:
Anyhoo, again. I'm using more than my allotted space for pictures, so I'll wrap this up quickly. The rest of the puzzle is wonderfully clean. The SE gets ITAL and FOCI, but that's really about it.
A few clues of note:
9d. I think I've seen it before, but it's a good one: [Sewer line?] for HEM.
35d and 44a. Nice touch linking ADAM [Driver who plays 44-Across] to [Kylo ___] REN.
61d. [Death, in Deutschland] is TOD. Did not know this. Any famous works of literature or film that use this?
That's all from me. Really, an outstanding Tuesday puzzle.
Matt Jones's Jonesin' Crossword, "Ageless" – Derek's write-up
The blurb says "hopefully timeless." Well, it may or may not be timeless, but only time will tell! I actually thought the puzzle had to do with mirrors or even palindromes after reading 16A, but I couldn't have been further from the truth! All of the theme answers, including a 19-letter entry spread across two across spaces, contain a common phrase with the letters AGE lopped off of the end, hence the title "Ageless." Here they are:
16A [Identical online message but sent backwards?] MIRROR IM (mirror image)
20A [Did some tricks at a skate park?] WENT ON A RAMP (went on a rampage)
35A [Do some drastic wardrobe reduction?] THROW OUT THE GARB (throw out the garbage) – I like this one!
51A & 57A [What was always covered with a sock until just now?] NEVER BEFORE SEEN FOOT (never before-seen footage) – Saved the best for last!
Love this theme! Great punny answers! And lots of interesting fill! How about 4.5 stars for this one? Bravo!
A few mentions:
42A [___ mojado (Spanish side of a "wet floor" sign)] PISO – I guess I have seen this quite a lot, now that I think about it! Thought it was obscure when first solving, but just go to McDonald's at an off-peak time and you will see this word!
63A ["Dude … your fly"] XYZ – Matt is dating himself! Back when I was in school, I learned this stood for "eXamine Your Zipper!"
2D [Spy agency on "Archer"] ISIS – OK, I will admit: I LOVE this show! I don't always watch it live, but it is always there for me to binge watch on Netflix!
9D [Actor Peter and TV producer Chuck, for two] LORRES – Who knew there were two?? ;-)
30D ["The Final Countdown" band] EUROPE – Immortalized in the recent Geico commercial! Now THIS is truly "timeless!"
46D [Quarterback known for his active knee] TEBOW – He is still in the news, trying his hand at professional baseball. I think for such a pious and reverent person, he sure does seem to enjoy being in the limelight!
49D ["Masters ___" (Showtime drama since 2013)] OF SEX – I have NOT seen this show. I know it has to do with the doctors Masters and Johnson who conducted lots of sex research around 50 years ago.
That's all for today! Enjoy your week!
Timothy L. Meaker's LA Times crossword – Derek's write-up
Today we have another constructor whose name is new to me. I was informed that some of the constructors I think are "new" are actually pseudonyms for other constructors, perhaps even Rich Norris himself! I don't think that is the case today. This was a fun puzzle, and the theme certainly isn't evident at all until you get the verrry end!
20A [Ship that's safe for an ocean voyage] SEAWORTHY VESSEL
37A [Barrel roll or wingover] AIR SHOW MANEUVER
48A [Brown v. Board of Education of Topeka, for one] LANDMARK VERDICT

62A [With 65-Across, military specialist] NAVY
65A [See 62-Across … and an acronym of the start of 20-, 37-, and 48-Across] SEAL
Yes, the Navy Seals are known for being warriors on SEA, in the AIR, and on LAND. SEAL is an acronym for SEa, Air, and Land. And it sounds better than Navy SAL! I like the extremely late reveal, and all in a not-too-difficult puzzle for a Tuesday. 3.8 stars.
A few notes:
9A [Dictation pro] STENO – Do these still exist? I know there are lots of voice dictation software and app choices these days! I suppose someone has to edit even that and clean it up …
11D [Long verse] EPOS – Haven't seen this word in a long time. A little tough for this puzzle, but all easy crosses.
25D [Raid victim] ROACH – Great clue! I pray you never have a roach infestation!
26D [Writer Zola] EMILE – This clue is very Zolaesque!
44D [Brunch cocktail] MIMOSA – Alright, I am getting hungry again! A fine restaurant near here serves a great Sunday brunch, including mimosas! May have to make a reservation soon … !!
50D [Gram] NANA – Another great clue! Last clue filled in; took me a minute to figure out we weren't talking about a unit of weight but rather a Grandma!
That's it for today. Have a great week! A holiday is coming up!
Donna S. Levin's CrosSynergy/Washington Post Crossword, "Mixed Drinks" —Ade's write-up
Good day, everybody! For about the next two weeks, I'll be blogging from the U.S. Open tennis tournament in the Queens section of New York City. Sorry for not being around yesterday, but the day was spent running around chasing tennis players down with a microphone in my hand. That will be more of the same for the rest of the fortnight, but I'll definitely be making appearances here as well. No worries!
Today's crossword puzzle is brought to us by Ms. Donna S. Levin, and it's one that might make you want to drink. In it, each of the four long theme entries starts with the same four letters, but in a different order. The fifth theme entry, ALES, explains what's happening with the other theme entries. Fun with anagrams, everyone (62A: [Pub drinks that are "mixed" at the starts of the four longest puzzle answers])!
SEALED DOCUMENTS (17A: [They're beyond scrutiny])
SALERNO, ITALY (26A: [Tyrrhenian port city southeast of Naples]) – You don't get to see the Tyrrhenian Sea be referred to many times in crossword puzzles!
LASER SURGERY (42A: [Technique that might be used to correct myopia])
LEAST RESISTANCE (55A: [Featured of the preferred path, usually])
Actually, I did this puzzle on the No. 7 train, on my way to Queens right now. Pleasant solve, except for the delays on the train. (Well, wouldn't that help my solving experience? Especially since that means my hands won't be flailing all over the place as the train's moving at a pace.) So, apparently, I missed KANYE talk on stage at the MTV Video Music Awards for about five minutes (36A: ["Yeesus" artist, to his fans]). For those who saw it, was it more insightful or self-aggrandizing? Should I even have asked that question? Only real slip-up came when I put in "perky" for PEPPY (21A: [Energetic]). The media room is so quiet right now, I just want to channel my inner Blutarsky and yell, "TOGA, Toga, Toga (38A: [Ancient Roman's wrap])!! I can't wait until "Blutarsky" is actually fill in a grid that I have to blog, because I can definitely turn that into a sports reference that you'll love. But, until then,…

"Sports will make you smarter" moment of the day: SONICS (43D: [Erstwhile Seattle hoopsters, to their fans]) – Long live the SONICS! The Seattle SuperSonics franchise was the first major American sports team to be located in the Pacific Northwest, with their inaugural season occurring in 1967, two years before the Seattle Pilots played its one and only season in Major League Baseball before moving to Milwaukee and becoming the Brewers. For those who might pick a fight with me and know about the Seattle Metropolitans, the first American-based team to win a Stanley Cup, doing so all the way back in 1917, we'll meet in the parking lot and have this fight! (I kid, of course.) But do know that the Sonics won their one and only NBA title in 1979. In 2008, they moved to Oklahoma City and became the Thunder. People still support the old Sonics across the country, including yours truly…
Thank you so much for the time, and I'll see you tomorrow!
Take care!
Ade/AOK