untimed (Evad)
Matt Gaffney's Wall Street Journal contest crossword, "Mess Kit"—Dave Sullivan's write-up
Hope solvers of this week's WSJ contest puzzle have a good appetite; we're in search of
a sandwich
. Let's see if we can all be
heroes
and solve this puppy, shall we?
These five entries seemed thematic to me, based on their position and length as well as that high-Scrabble™ letter value J in each of them:
17a. [Multitasking reporter], VIDEO JOURNALIST – multitasking because they are both taking a video and interviewing someone at the same time? I enjoyed MSNBC's Rachel Maddow's Friday NYT last week; this theme entry reminded of one of her longer ones, FOIA REQUEST for Freedom of Information Act.
20a. [Trendy drink ingredient], ALOE JUICE – sounds disgusting, but perhaps I should try it first?
34a. [1984 "Weird Al" Yankovic parody with the line "Art Fleming gave the answers"], I LOST ON JEOPARDY! – it's funny that 1984 was the year Jeopardy! was revived with host Alex Trebek. Did "Al" know about the reboot when he wrote the parody?
52a. [Got people laughing], MADE JOKES – "told" jokes seems more idiomatic to me
57a. [Sitcom set in an OB/GYN], THE MINDY PROJECT – it probably won't surprise regular readers of my commentaries here that, though I've heard of this show, I've never seen it.
So when I saw that repeated J, the sandwich PB&J leapt to mind and I tried to backsolve that solution into the theme entries. I couldn't get any traction with that, so I went back to the drawing board. That's when I noticed that each J had an O and an E by it, leading me to this week's meta solution, a Sloppy Joe sandwich. "Sloppy" reminds me of those cryptic crosswords across the pond where this could be interpreted as an "anagram indicator." Others would be "funny," "drunk," or "muddled." I like how these 3 letters appeared in a different order in each theme entry, I guess I wish I was more sold on "making" jokes as opposed to "telling" (or even "cracking") them.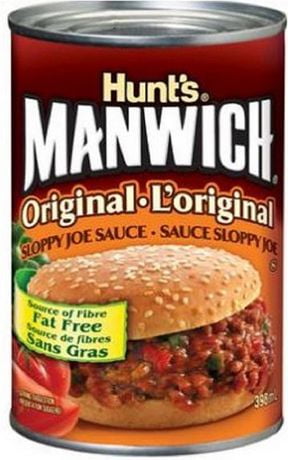 I noticed an Oscar-related mini-theme among the adjoining ["The Hurt Locker" beat it for Best Picture] for AVATAR and [Film category] for WAR. (Was there once an Oscar awarded to the best "war" movie? Let's hope that any such future depiction stays on the silver screen and not in reality.) Finally, I'll close with the answer for [Warmblooded killer] or ORCA, which could've been alternatively clued as [Annual award given by this site] and you can read all about this year's winners in the commentary by the multi-talented Sam Donaldson.