Note: Fireball is a contest this week. We'll post a review after the submission period closes.
Priyanka Sethy & Ajeet Singh's Wall Street Journal crossword, "Look Sharp"—Jim's review
Theme: Four squares in the grid are rebussed with a word that's a synonym of "point" (i.e. a sharp, pokey thing). These squares are also TURNING POINTS where a theme answer changes direction from Across to Down (or vice versa), and of course it includes the letters in the rebussed square.
9a / 11d. [Device for rinsing out…] / […sinus cavities]. NE(TI P)OT.
16a / 18d. [Country whose smaller…] / […islands include Great Bird and Prickly Pear]. ANTIGUA AND (BARB)UDA.
48d / 60a. [Gradual movements…] / […on a massive scale]. CON(TINE)NTAL DRIFTS.
58d / 68a. [Pricey hotel…] / […room feature]. MI(NIB)AR.
I really like the nifty gimmick here which took a good amount of sussing out to understand. I like the way the clues are set up, and I appreciate that the meaning of "point" is the same for each entry.
But I didn't finish the puzzle (without looking things up) for a few reasons.
For some reason, I thought the sinus device was called a NEPI POT. Don't ask me why. But the result was that I had a rebussed PIP which seemed like a reasonable "point" (i.e. a dot on a die). Okay, no, that doesn't make much sense, but it seemed like it did during the solve.
I don't think I've heard of Barbuda, so it seemed reasonable to go with ANTIGUA AND (BERM)UDA. No, you can't really argue that a "berm" is any kind of a "point," but again, sometimes logic goes out the window during a solve.
Both of those are mainly my own failings, but crossing a proper name PAPP with a relatively obscure sport position SKIP (clued [Caller of shots on a curling team]) is bordering on unfair. SKIM? SKIN? SKIT? It all seemed within reason to me.
Also, I think it's reasonable to assume that some solvers won't be familiar with both TD GARDEN and PUNK'D, making that crossing at the D on the difficult side.
There's some really nice fill like "TOP THAT!," CLOUD SERVER, NBA ALL-STARS, "I'D SAY SO," and I BEFORE E. I struggled with ASURA [Antihero of Hindu mythology], mainly because it crossed what I thought was supposed to be BERMUDA. Never heard of TEASE UP as a phrase for embiggening hair.
Clues of note:
1a. [Where the heart is]. Sing it with me: "Home is where the heart is, so you're real home's in your CHEST."
45d. ["Hundo P!"]. DEF. These are absolutely foreign words to this oldster. Apparently it's new-fangled slang for "hundred percent!" (i.e. "DEFinitely!")
Mixed feelings for me on this puzzle. I love the theme, but I ran into unanticipated difficulties. 3.75 stars.
Simeon Seigel's New York Times crossword — Zachary David Levy's write-up
Difficulty: Mostly average (15m34s)
Today's theme: INSIDE OUT (Thoroughly … or how to read the four Across answers with parentheses in this puzzle)
AFT RAFTS CRAFTSMEN
LATTE PLATTER SPLATTERED
THE OTHER PSYCHOTHERAPIST
ORE CORES SCORESHEET
I was wondering what all those parentheses were doing, and now I know.  THE OTHER PSYCHOTHERAPIST and LATTE PLATTER SPLATTERED are my favorite of the bunch, the plurals on RAFTS and CORES, however, make the other two a bit awkward.  I debated how to describe the incremental widening of the theme answers in order to get to the full phrase.. but INSIDE OUT is pretty succinct.  Don't look a gift explanation in the mouth.
EENIE, EPEE, ERIE, YEOH, catch some RHEAS by the.. BUM.
Cracking: the clue on ECOLI — "Spoiler alert! It's bacteria!"
Slacking: INURN, oof, not just because it's uncommon and awkward, but because it's also self-explanatory in a way befitting someone with a caveman's grasp of the English language.  Me put ashes in urn.  Me INURN them.  They INURN now.
Sidetracking: ODELL Beckham Jr. may be a diva punk drama queen, but this is still one of the top 10 greatest catches in NFL history: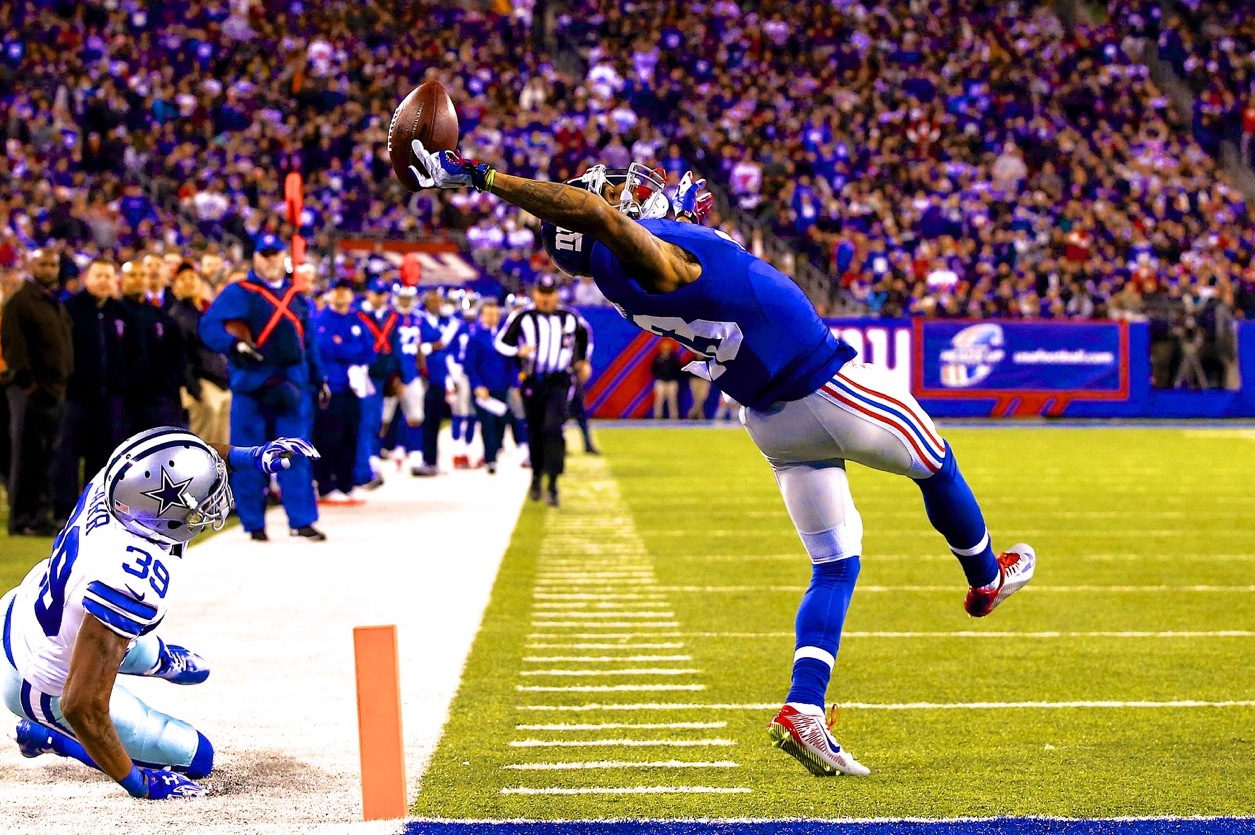 Robyn Weintraub's New Yorker crossword – Kyle's write-up
Thanks Robyn for today's New Yorker puzzle.
54A ["Bargain at twice the price!"] "IT'S A STEAL!". But if you later try to return those sale items, you may wind up with a STORE CREDIT [What a retailer might offer in lieu of a cash refund]
1A [Athlete's top supporter?] SPORTS BRA. I've seen this clue angle many times for this entry so it didn't really pop for me.
46D STD gets a health clue [Chlamydia, for example: Abbr.] rather than a more typical reference to the short version of standard.
Alexander Liebeskind's LA Times crossword – Gareth's summary
Alexander Liebeskind's puzzle today has a clever theme with a subtle revealer: TRIPOLI. The long e sound occurs three times in four answers, often with varied spellings, which is a touch I liked:
["Almost done!"], BEREADYINAJIFFY
[Command attributed to Captain Kirk], BEAMMEUPSCOTTY.  If not invented here, it was certainly reinforced…
[Cat call?], HEREKITTYKITTY.
[1, 1, 2, 3, 5, 8, 13, 21, 34, and so on], FIBONACCISERIES
Others:
["Ideas worth spreading" offshoot], TEDX. Some sort of Ted Talk thing? Seems like it will appear again, though..
["Sister Outsider" writer Audre], LORDE. Not the Royals singer then…
[Attachment at the front of a sloop, e.g.], HEADSAIL. Common enough components, but needed a lot of crossers to even guess at this.
["Almost done!"], ONETOGO. A nice callback to the first theme answer…
Gareth
Amie Walker & Kelsey Dixon's USA Today Crossword, "DMs Are Open" — Emily's write-up
Lines of communication are wide open today! Also, today's edited by Kelsey Dixon.
Theme: each themer is contained within D–M
Themers:
19a. [America's first openly trans elected state official], DANICAROEM
39a. ["My reputation should precede me, but does someone need a reminder?"], DOYOUKNOWWHOIAM
58a. [Squad that likes to argue], DEBATETEAM
DANICAROEM is new to me but had fair crossings. DOYOUKNOWWHOIAM has wordy cluing but is oh so good! Within the first clause, I knew and filled it right in, except I first went with the contacted form ("don't") since that's what's more common to me. DEBATETEAM was also an easy fill, though growing up our school had knowledge bowl (a quiz/trivia competition).
Favorite fill: COMICBOOK, ABACK, ALLTHAT, and GLOW
Stumpers: SEX (excellent cluing just didn't click for me)
Smooth solve with lots of great fill and cluing. Excellent collab!
4.0 stars
~Emily