NYT 3:25 (Amy)
AV Club 8:11 (Ben)
LAT 3:35 (Gareth)
CS tk (Ade)
WSJ 6:01 (Jim)


Julian Lim's New York Times crossword
Fun theme, provided you didn't stop paying any attention to pop music 20 or 30 years ago. Familiar phrases that include words that double as one-named singers are the theme answers:
17a. [Amused the singer of "Raise Your Glass"?], TICKLED PINK.
25a. [Enchantment of the singer of "Raspberry Beret"?], PRINCE CHARMING. I wish this were clued by way of "Little Red Corvette," as that song is much lewder.
35a. [Favoring the singer of "Sunday Bloody Sunday"?], PRO BONO.
42a. [Medical procedure for the singer of "If You Love Somebody Set Them Free"?], STING OPERATION. "Surgical" would be more precise than "medical," but it's Wednesday, not Monday.
57a. [Coached the singer of "Kiss From a Rose"?], TRAINED SEAL. Heh.
I give this theme an A.
Favorite fill: CAKE MIX (dang it, people keep talking about cake and I HAVE NONE), RABBIT HOLE, DYNAMIC DUO, MAD MEN, TATER TOTS, DRIVE-THRU.
Worst: plural ALIS, TEK, abbrevs PKGS and RECT, ELL and ZEE, ULAN (the current default spelling is Ulaanbaatar and Wikipedia says "Ulan Bator" is "archaic), OOP, L. RON.
What about 5d. [Coke Zero alternative], DIET RC? That's a thing? It's not just Diet Rite anymore? Googling … The label appears to say Diet RC, but the company website calls it "RC Cola Diet," which is a terrible name. Diet Rite comes in diet cola and four fruit flavors.
4.25 stars for the theme, 4.5 stars for the juicy fill, 2 stars for the fill I didn't like, so approximately 4 stars overall. A diverting enough solve so that the worst bits of fill didn't distract me much while I worked the puzzle.
Tom Uttormark and C. C. Burnikel's Wall Street Journal crossword, "Echoes" — Jim's write-up
Variations on a theme today. Tom Uttormark and C. C. Burnikel team up again to give us homophones of the word SELL. Theme entries are phrases that end with these homophones.
17A [Home to about 2.2 million in the U.S.] PRISON CELL. Fine entry but a rather depressing clue. How about [Breakout site, maybe] or something similar?
24A [Collectible frame] ANIMATION CEL. Sorry. It's a thing, but it's not a stand-alone phrase.
50A [Realty ad phrase] PRICED TO SELL. Good!
62A [Artisanal seasoning] FLEUR DE SEL. Tough. (1) Not as well-known a phrase and (2) no indication that the answer is French. I'm sure foodies have no problem with this however.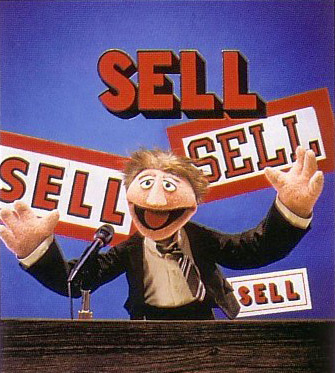 This type of theme doesn't excite me so much because there's not much wordplay going on. And in this case, the theme entries are hit-or-miss. Unless all my theme phrases are sure-fire winners, I would look for different set of homophones.
The title isn't very telling, either. Any homophone-themed puzzle could have the title "Echoes". Instead, how about "Bear Market"?
Outside the theme, the construction is very nice. Good non-theme material and a minimum of dreck. This indicates meticulous construction and/or strong editorial oversight. For the most part, this is typical of a Mike Shenk joint.
Good stuff: CANNIBALS, MIRACLE-GRO, ARE WE ALONE, E-CIGARETTE (in its full form), WASABI PEAS with ARIGATO (nice!), and STREET ROD. Fantastic!
Bad stuff: FNMA, the acronymic version of Fannie Mae which, according to my sources, last appeared in a major publication puzzle in 2011; YGOR, the "Son of Frankenstein" role which I always thought was spelled Igor; and ARR with the strange clue [DEP's counterpart]. I kept thinking DEP was going to be some politician's initials, like Dwight E. Piesenhower (good name for a baker!).
So, a ho-hum theme and some slightly off-target theme entries, but good construction and excellent non-theme fill.
In closing, since we have OSLO crossing HOLE, let me take a moment to plug Jo Nesbø's excellent Nordic Noir crime thrillers set in OSLO and featuring the flawed and very very very very unfortunately-named detective Harry HOLE. If you can get past the name, you'll find an excellent series of novels starting with "The Bat" and ending 10 books later with "Police".
Ben Tausig's AVCX crossword, "Make-up Game" — Ben's Review
I'm kind of surprised I didn't catch what was going on with the theme clues more quickly this week, but there's a lot going on in the grid.  Right from 1A, there's a hint that the grid is going to be filled with "something, in certain spots", but if you're like me and try to do a full pass of the acrosses before digging too deeply into the down clues, it wasn't clear what was going on in the theme clues:
17A: "That constellation looks like Orion's butt," et al.? — SPACE BAR

BS

24A: "My cheap Milwaukee beer fell!" — PA

BS

T DOWN
39A: Hard-edged soul music with Gwen Ifill on bass, David Brooks on guitar, and Charlie Rose singing? — P

BS

FUNK
50A: Bumper sticker spotted in the parking lot of a dog show? — I LOVE LABS
62A: Tale of parsley, sage, rosemary, and thyme? — HER

BS

STORY
Once I hit the downs and realized that many of the personal details doled out in the rest of the clues this week were all LIES, everything fell into place.  The theme clues are literally filled with BS (how I somehow missed SPACE BAR and PAT DOWN in the first two clues continues to shock me).  Here's some of the other fibs in the grid:
8D: Alcoholics Anonymous founder who was my great grandfather — DR BOB (first pass-through of this clue: "that's interesting!".  Second pass-through: "duh!")
9D: Basketball stat that I got when I played briefly for the Utah Jazz in the early 2000s — ASSIST
27D: "Hot ___ Time Machine" (film for which I was an executive producer) – TUB
53D: Hat I wore as an army ranger — BERET

Overall, the fill this week was good, although I questioned whether having ELLA and ETTA in the same grid was allowed – last week we had SANTA CLARA in the grid near a clue about Santa Claus.  Still, it's a minor nitpick that didn't ruin my experience of the puzzle.
3.75/5 stars.
Howard Barkin's LA Times crossword – Gareth's review
This US sports theme meant little to me. However, before we get to that theme I'd just like to mention tonight's sports numbers, "64-0". OK then, the theme meant little to me, but it seems pretty tight? I'd have thought ROUGHING(IT) and HOLDING(WATER) are like FIGHTING(CHANCE), only less severe, but what do I know? I can't imagine what BOARDING(PASS) is. If ice hockey players are waterboarding their opponents Abu Ghraib-style, then things have gotten a little out of control! Anyway, doing those things will put you in the PENALTYBOX. I don't know if those are the only things that can put you there. I know ICING is an ice-hockey offense of some sort. Is it lesser?
Some interesting choices in the medium-length fill. There's not much truly long fill outside of the theme in this design. WINGOLD looks like WING/OLD, but it's WIN/GOLD. HAIGHT, SAIDNO and DENIRO are somewhat interesting. The GL of HEIGL looked wrong before I saw the clue. Unexpected letter patterns are always nice to have! This goes for TBIRDS as well!
I'd definitely have redone the top-right. DENIRO is not worth an area with plural abbr. ENCS and SDAK. Such a small corner should have plenty of better options. Starting from RINSE in place of RISKY there are a whole stack.
Clues: [Start of a spelling rule broken by deists?] is a fantastic, if utterly transparent clue. [Great Salt Lake component, to a chemist], NACL on the other hand, felt needlessly padded, and [Charging cable, e.g.], WIRE oddly specific.
3.5 Stars
Gareth