untimed (Evad)
Patrick Berry's Wall Street Journal contest crossword, "Host of Possibilities"—Dave Sullivan's write-up
Today we're in search of
a missing member of a set
. At first blush, there seem at least three theme entries:
17a. [Noncitizen who might be detained], ENEMY ALIEN – sort of a strange phrase to my ear, and particularly sobering given the recent attacks in Paris, Istanbul, Nice and Orlando (although none considered "aliens" to their country I believe).
39a. [The "dead man's hand," for example], TWO PAIR – aces over eights, do they all have to be from black suits, though?
62a. [She plays Cersei Lannister on "Game of Thrones"], LENA HEADEY – never have heard of her, as I seem to be the only person on the planet not following this series.
But two more longer entries in the down direction seem like they might also be included:
11d. [Place on a timeline], CARBON DATE
29d. [Milk jug size], HALF GALLON
And then I discovered five other clues with asterisks, and wondered if these were in addition to the five above, or these were the only ones after all:
22a. [One venerated by ancient Egyptians*], IBIS / ISIS
46a. [More prudent*], SAGER / SAFER
7d. [Suffer a defeat*], FAIL / FALL
37d. [Unites, with "together"*], BINDS / BANDS
56d. [Inattentive state*], DAZE / DOZE – can "doze" be a noun?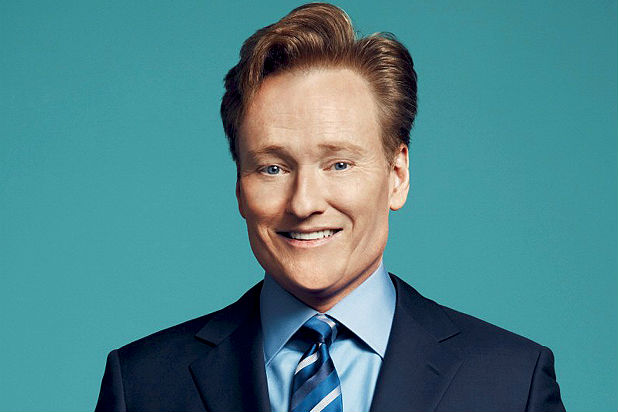 Looking more carefully at these last set of five short entries, they suspiciously cross each of the five longer entries above (at the letter marked in red). Not only that, these short entries actually have two solutions as noted above. When substituting in that second solution, you get the last names of hosts of The Tonight Show:
Steve Allen (1954-57)
Jack Paar (1957-62)
Jay Leno (1992-2009, 2010-14)
Johnny Carson (1962-92)
Jimmy Fallon (2014-present)
The missing host is Conan O'Brien, who hosted the show in '09 and '10. (I can't think of a common word that substitutes just one letter from his last name, so that was further reassurance he was our meta answer.) This was an incredibly intricate meta–most constructors would stop at just having the one letter be off in the five theme entries, but Patrick takes it to a whole other level by having that letter be crossed by an entry that can have two answers. My only regret is that these entries were starred, as it would be a much bigger AHA moment for a solver to find out this pattern on his/her own.
The fill didn't suffer in this one either from the weight of all that theme material–the consonant-rich SCHWEPPES, TEDDY BEAR, Éponine's ballad ON MY OWN from Les Miz, and David GEFFEN, the name on his eponymous record label.
'Til next week…