Grid: 20 minutes; meta: 30 more
Matt Gaffney's Wall Street Journal contest crossword, "Seeking Answers" — Conrad's review.
This week we're looking for the two grid entries that combine to describe the theme. There were five long theme entries: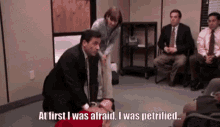 [17a: What nighttime condition is treated with a CPAP machine?]: SLEEPAPNEA
[24a: What aptly named #1 hit of 1977 is used in CPR training due to its number of beats per minute?]: STAYINALIVE
[38a: What charity is known for its use of military ranks?]: SALVATIONARMY
[51a: What brewery's beers include Wicked Hazy and Boston Lager?]: SAMUELADAMS
[61A: What U.S. city is known for its 15-mile River Walk?]: SANANTONIO
They were all phrases with words starting with "S" and "A." Matt provided clear instructions, so I scanned the grid for words beginning with those letters, compiled a list… and found nothing useful.
I set the puzzle aside for a bit and then scanned the grid for anything potentially meta related. ESSAY  jumped out, and I had the rabbit hole. The "S" "A" entries were clued as questions, so TEST fits the theme (and also matches the title "Seeking Answers"). That leads to ESSAY TEST, our contest solution.
I solved this puzzle while watching game one of the White Sox/Astros ALDS series. The epic riff from Seven Nation Army played in the stadium. Its title was "inspired by White's misunderstanding of the name of the Salvation Army as a child".